BSC Early Career Group Mentoring Program
Empowering the Next Generation of Leaders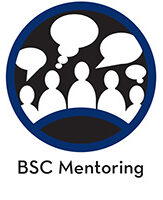 BSC's Early Career Mentoring Program is designed to provide a supportive and engaging community for early career participants who are committed to their personal and professional growth and development. Through our masterful mentorship and effective networking opportunities, BSC Mentoring fosters a culture of intentional focus on career advancement.
BSC is passionate about empowering early career professionals, and this program is purposefully designed to be affordable for all budgets. Our goal is to break down financial barriers and ensure that anyone who is passionate about their career can access the resources they need to succeed.
Our monthly, 1-hour long Zoom sessions are filled with interactive facilitation that encourages reflective questions, conversations, and mentorship surrounding specific career development topics. Webcam and reliable Internet connection necessary for full participation. No driving is allowed in a BSC Zoom Room.
Second Tuesdays of each month ||  7:00-8:00pm ET / 6:00-7:00pm CT
February 14—Leadership Begins with Me…Own your intentional growth
March 14—Leadership Begins with Me…Build your brand
April 11—Leadership Begins with Me…Be a change agent
May 9—It's All About Relationships…Communicate effectively
June 13—It's All About Relationships…Create connections
July 11—It's All About Relationships…Express gratitude
August 8—It's All About Action…Dream big
September 12—It's All About Action…Make decisions & manage your priorities
October 10—It's All About Action…Hold yourself accountable
November 14— Leading ME Principles℠ Review
December 12— Self-Care Starts with ME℠…Align mind, body, & soul
YOU need this program if you…
are employed and looking for tools to develop and strengthen your career growth skills.
have a tenacious vision for climbing the career success ladder.
want timely advice and support on navigating your career.
value the opportunity to network with like-minded peers.
seek accountability for career path goals.