The Bridge to Hope and Healing®
The choices we make and the actions we take clearly define who we are as individuals and help us identify what we want to teach and model for our children and loved ones. —Becky S. Corbett, Author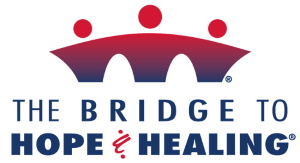 The Bridge inspires individuals, families, and communities to build their bridge to hope and healing in a moment of crisis. Whether dealing with a health issue, struggling with addiction, the loss of a job, the suicide of a loved one, a natural disaster, or the death of a family member, The Bridge is a guide to assist you through your life circumstance and beyond. From the moment a crisis hits and you get thrown into a fog—often feeling alone, confused, and don't know which way to turn—all the way through your healing journey, The Bridge gives you a sense of hope, 9 principles, and healing techniques to help you cross over the troubled waters to reach the other side.
Principle #1 – Hope…The fog will lift
Principle #2 – Show strength and courage…Build your bridge
Principle #3 – Maintain a positive outlook…Apply a strengths-based perspective
Principle #4 – Communicate…Keep talking
Principle #5 – Seek resources…Invest in the relationships that sustain you
Principle #6 – Heal…Take care of you
Principle #7 – Accept, affirm, and adjust…Life moves forward
Principle #8 – Forgive…Let go
Principle #9 – Express gratitude…Count your blessings
The Bridge To Hope & Healing®: 9 Principles To Guide You in a Moment of Crisis
Inspired by Becky's story, My Husband Is Gay—Now What?, this is about two people who threw out the divorce rulebook, a wife who supported her husband through his coming-out process, parents who stayed focused on their daughter, and a family who built a bridge to hope and healing. The book can be used to navigate a life circumstance, whether you are the person in a moment of crisis or supporting loved ones or clients through their disappointment. Readers can use the Principles fluidly and flexibly to build and guide them over their bridge, and employ Tips & Techniques, Bridge Reflections, and Journal Prompts to assist along their growth journey.