by Jennifer Luna, MSSW, BSC Coach & Trainer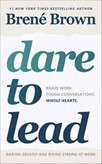 Dare to Lead
Brene´ Brown
Random House | 2018 | 298 pp. | ISBN 9780399592522
Welcome to our leadership resources book review to facilitate your continued growth and move your ideas to action. This month we add Dare to Lead by Brene´ Brown, PhD. LMSW to your professional reading list and provide reflection from Jennifer Luna, MSSW.
In the world of leadership, there are hundreds of different styles, behaviors, and theories. Leadership has now become one of the most foundational skills that everyone should possess. While much of the literature about leadership focuses on theory and organizational culture, the concepts of courage and vulnerability are rarely discussed. In Brown's book Dare to Lead, she seeks to challenge this gap by diving into the values of courageous leadership. Brown uses 4 key skill sets to organize the concept of daring leadership: rumbling with vulnerability, living into our values, braving trust, and learning to rise. Through these key skills sets, we are able to learn how to develop organizations and teams that are built on empathy, connection, and courage.
One of the key takeaways that will resonate with many is "the story I make up." These are the thoughts we tell ourselves when we inadvertently make ourselves the center of a situation that has nothing to do with us, usually out of our own fear or insecurity. This is our brain protecting us, trying to keep us safe, and it happens all the time. Once we are able to recognize this is happening, we can learn to rise, a process that shows leaders how to be more resilient through risk and courage. When we realize that a situation has got us hooked, Brown explains how to lean into the emotion and practice curiosity. As Brown states "When we have the courage to walk into our story and own it, we get to write the ending. And when we don't own our stories of failure, setbacks, and hurt – they own us" (p. 249).
This book has many golden nuggets which could also be helpful in everyday life. One of the concepts that made an impression on me was Brown's suggestion of selecting one or two values from a list of over 100 different values she provides in the book. Why so few? Brown's research suggests that those who demonstrated the most willingness to rumble with vulnerability and practice courage tethered their behaviors to one or two values (p.187).
Having fewer values allows one to put more effort into those we prioritize.  The two values I chose were grace and wholeheartedness. As I began the process of evaluating, I realized that for myself, everything else leads back to these two values. For example, while I value my family tremendously, it is only if I bring my whole-hearted self to them that the relationship thrives. While everyone will have different values, Brown states that daring leaders who lean into their values are never silent about hard things (p.184).
As a supervisor, this book has challenged me to be extremely transparent with my team and to encourage honesty and candor in our meetings. In our weekly staff meeting, we have Brown's quote at the top of the agenda "clear is kind, unclear is unkind." This quote reminds us that it is in the team's best interest to give honest feedback. Giving feedback that is only half true or sugarcoated will only make oneself feel more comfortable. When we hold each other accountable but don't give clear expectations, we are being unkind, and worse yet, talking about people rather than to people is unkind. Leading with clarity eliminates the need to drop hints, builds trust in the team, and models the importance of tough conversations. While this all takes time and resources, Brown gives practical tools to facilitate these difficult conversations including access to the Dare to Lead Hub. This website includes downloads and guides mentioned in the book, videos, and even a podcast to keep the conversations going.
This book is an excellent tool when seeking a transformational shift in the way that teams work together to conquer problems or strengthen processes. Brown will leave you with novel ideas for how to engage in the hard conversations and why it is important to do so. Brown's creative use of humor and authenticity also makes this book relatable to all audiences.
Dare to Lead is recommended for…
Anyone who would like to take their leadership to a deeper level in order to build a rich and meaningful team environment.
Those seeking practical, straightforward tools for creating an environment of courage over comfort, whether in parenting, relationships, or work.
Cite: Luna, J. (2021). BSC Book Review: Dare to Lead.  Rockville, MD: BSCorbett Consulting, LLC. Retrieved from https://bscorbettconsulting.com/portfolio/dare-to-lead