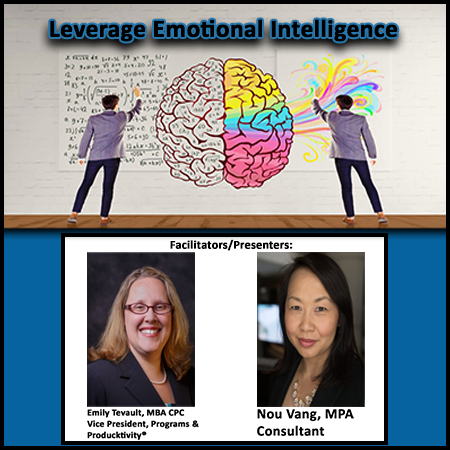 Leverage Emotional Intelligence Webinar
with Speakers
Emily Tevault, MBA, CPC, ACC 
Nou Vang, MPA 
What is emotional intelligence all about? Why is it so important and how can it benefit your relationships? Our Leverage Emotional Intelligence webinar will tackle these questions and apply them to scenarios you encounter. In this session, learn strategies for successfully strengthening your emotional intelligence.
Objectives:
Define and identify the value of strengthening your emotional intelligence.
Participate in scenario analysis to understand how to leverage emotional intelligence in organizational and professional situations.
Learn strategies for successfully developing and enhancing your emotional intelligence.
Cite: Corbett, B.S. (2019). Leverage Emotional IntelligenceWebinar.  Rockville, MD: BSCorbett Consulting, LLC. Retrieved from http://https://bscorbettconsulting.com/portfolio/emotional-intelligence/