by Hilary Ashmen, M.Ed., Adult Learning Consultant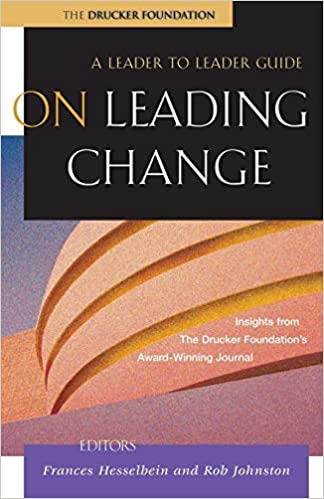 On Leading Change: A Leader to Leader Guide
Frances Hesselbein and Rob Johnston, Eds.
Jossey-Bass | 2002 | 120 pp. | ISBN 978-0787960704
On Leading Change: A Leader to Leader Guide, is a valuable resource for practical application of change management. This compilation of renowned industry leaders includes Peter F. Drucker, Peter M. Senge, William Bridges, Susan Mitchell and more. They convey the strategies and skills that have contributed to their success in a conversational format. The book is motivating and engaging.
I appreciated the ease in selecting the chapters most pertinent to my situation. Going through change is one of the true constants in our personal and professional lives. The section on cultural transformation and coaching resonated most with me. The connection that Senge and Drucker made between change and cultivating a culture of performance and innovation with passionate team members inspired me to continue collaborating and modeling the culture and behaviors needed for success. They explained that a coach tailors the skills and approach to the individual and organizational needs. This enables the leader to coach change agents at all levels to ensure that the culture and transformation is system-wide.
When you find yourself in the position of being a change agent for a work culture shift and are unsure of exactly how to best handle it, this is the book for you. On Leading Change: A Leader to Leader Guide helps you access the challenges ahead with staffing and identify potential pressure points that if left unattended will become roadblocks to your successful transition.
The book is recommended for…
Leaders who want to learn about aspects of change from change experts' perspectives.
A good read for a longer work commute or choose the selection of chapters that apply to your change needs.
Cite: Ashmen, H. (2018). BSC Book Review: On Leading Change: A Leader to Leader Guide.  Rockville, MD: BSCorbett Consulting, LLC. Retrieved from http://https://bscorbettconsulting.com/portfolio/on-leading-change